Great Things @Mayfair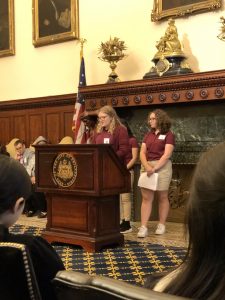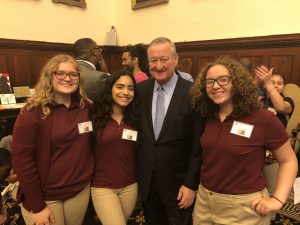 Yesterday (Monday May 7th), 20 preselected 8th grade students traveled to City Hall to participate in an event that was created by the Mayor, Catto Memorial Fund and The School District of Philadelphia. This event was the culmination of a year long Professional Development created by the school district and funded by the Catto Memorial Fund in an effort to increase middle school and high school student knowledge of Octavius Catto and his legacy. Catto was a civil rights activist from the late 1800s in Philadelphia and worked to desegregate street cars and increase voting rights for African Americans, he was killed on Election Day 1871. The students at Mayfair have worked tirelessly to compete projects on racism, segregation, and discrimination historically but that they felt a personal connection to, these projects range from illustrated quotes to sets of bookmarks, to poster board sized murals. The twenty students selected to attend the event completed their projects 3 weeks before their classmates due date in order to have them on display at City Hall. Also, three students were chosen to share their interpretation of Catto's legacy based on the project they completed in front of the other attendees and Mayor Kenney. In the afternoon the students participated in a public paint day hosted by the Mural Arts Program. They painted sections of the Octavius Catto Mural which will be installed at Broad St. and Catherine in November of this year. Our students joined a select group of 200 students from across the city for this event and truly represented Mayfair to it's fullest!!
Mayfair@BroadStreet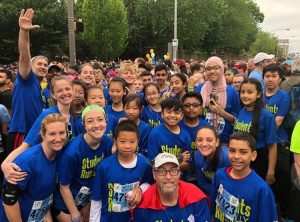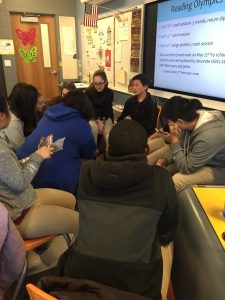 Shout to the 7th grade Mayfair Reading Olympics team led by Ms. Ferrino for reading numerous books this school year! We will complete our knowledge of these books May 22nd at the event. In this picture students are practicing for the event by answering various comprehension questions about the books as a team.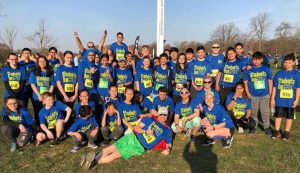 Congratulations to our students that ran with our Students Run Philly Style team!
The PECO Innovation Challenge Team, made up of fifteen 8th grade students, conducted the audit at Mayfair on 2/28/18.  They conducted an investigation of the schools use of energy.  They surveyed classrooms and offices and tested the use of light, kill a watt usage, relative humidity, water temperature and room temperature.  The students were also given the opportunity to explore the basement of the school to see the boiler areas to learn how the school is heated and cooled.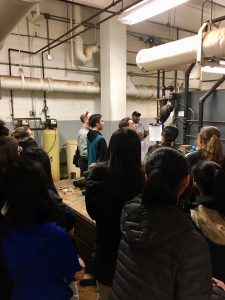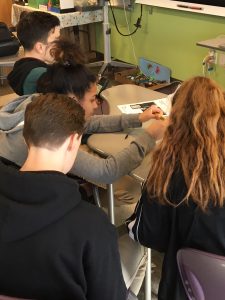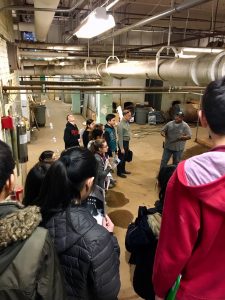 Kindergartners in room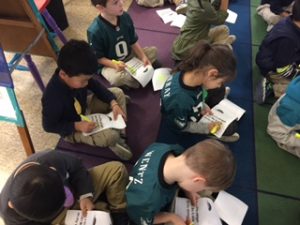 120 are word hunters. In their informational text, they can locate action words! Way to go readers!
Congratulations to Ms. Fell for earning 1st place in the Middle School Door Decorating Contest. Runner up with Mr. Smith.
From Room 406:
A historian from Penn Museum visited Mayfair's Middle School students in Mrs. Ferrino's room to conduct a lesson dealing with Egyptian artifacts with our 7th graders. Classes also visited the museum to get hands-on experiences.
From Room 120:
Flashlight Friday – Kindergarten has been working on building their reading stamina. We can now read independently for 10 minutes and hope to get to 25 minutes of independent reading by the end of the year. On Fridays, we use mini flashlights to track our words!